Acquisitions
Building an Outstanding Collection of Local Art and History Items
439 items were accessioned into the collection in 2015. These included this stunning Chilkat Blanket. 31 new artworks purchased through the Rasmuson Art Acquisitions fund included two outdoor sculptures, a start on an exterior sculpture garden. In 2016 we expanded the sculpture garden with a generous donation of seven more sculptures. In 2016 and 2017 the collection grew significantly, including White Fang movie production artifacts, the Alaska Indian Arts collection, and the entire borough historic map collection.
Sheldon Museum Acquisitions
Our collection grows through the generosity of our community. We do not have the ability to purchase items unless money is provided by a grant or a donor for that purpose. Many wonderful items were removed from the Chilkat Valley during the 19th and early 20th centuries. Today, some of them are returning and finding a home at the Haines Sheldon Museum, thanks to the generosity of people who know how important it is to us to have our heritage here.
Haines Sheldon Museum Art Acquisitions
Like many small museums, the Haines Sheldon Museum has no acquisitions budget. The generous Rasmuson Foundation Art Aquisition Initiative Fund allows us to purchase modern, locally produced art every year.
Started in 2003, the goal of this fund is to support living, practicing Alaskan artists through museum purchases, to enchance the permanent art collections of Alaskan museums, and to encourage Alaska museums to develop formal collection policies.
Click on the tab below for the Sheldon Museum's most recent art acquisitions made possible though the Rasmuson Foundation.
2012
Eclipse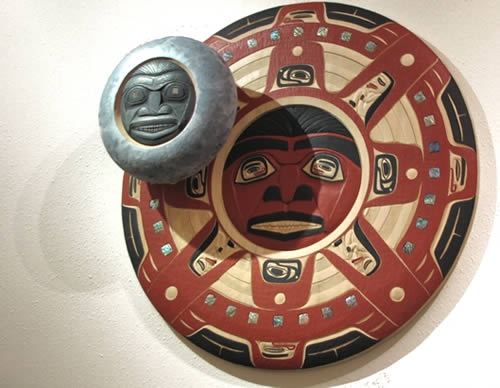 by Jim Heaton
Wood & Metal Northwest Coast Style Carving
Fault Line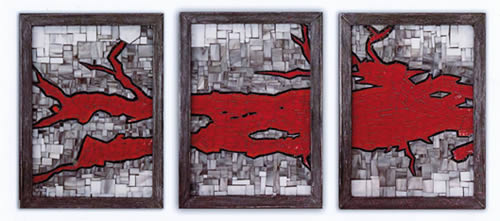 by Sharon Svenson
Glass Mosiac
Soul Bowl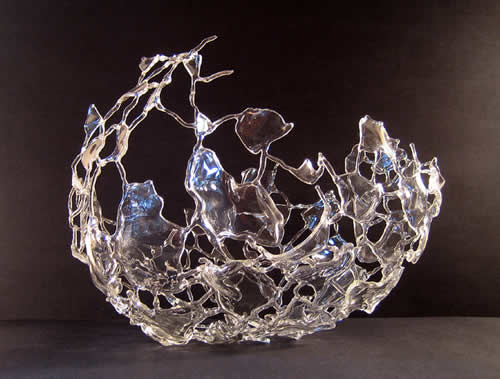 by Sarah Cohen
Glass Sculpture
Previous Years Coming Soon!