Saturdays at the Sheldon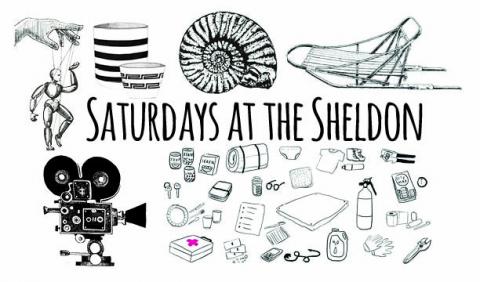 To sign up: Click on the workshop below. At the bottom of each workshop page is a link for the shopping cart.
Join us for family workshops offered in conjunction with the exhibitions Haines 50: Objects of Our History and White Fang: When Hollywood Came to Haines. From 2 to 3 p.m. each Saturday afternoon, we will explore the history and art of the Chilkat Valley using stories, songs, snacks, guest speakers, collection examples and hands-on activities.
Saturdays at the Sheldon are $5 per person, regardless of age. This program is designed and recommended for families with children aged between four and fifteen. Children 7 and younger must be accompanied by a parent. Preregistration is suggested. Space is limited.
Workshop Structure
Each workshop will start with 10 minutes of circle time, where participants listen to a story and learn new terms and ideas and songs. Then there will be crafts, activities, snacks and movement.
Details on each workshop are available at http://www.sheldonmuseum.org/saturdays-sheldon
February 4: Who Are You?
February 11: Foods and Signs of Love
February 18: Australia to Alaska
February 25: The Art of War
March 4: Movie Making
March 11: Let's Trade!
March 18: From Plants to Baskets
March 25: People and Puppets
April 1: You Can't Fool Me
April 8: Making a Survival Kit
April 15: Hooligan and the Grease Trail
April 22: Manufacturing from Raw Materials
April 29: All About Paper
May 6: Becoming a City
Educator Diane Sly
Educator and early childhood specialist Diane Sly is gifted in communicating respectfully with people from all walks of life, and consistently demonstrates leadership in helping groups work together. She has extensive experience in many early childhood settings, from pre-school, school age, infant toddler, and family home visiting. She has a Masters degree in Human Development from Pacific Oaks, and spent several years on the board of the Alaska Association for the Education of Young Children (AEYC), for whom she coordinated a statewide rural outreach program to people from small villages and communities.  In Haines, she is best known for five years leading the Tikes and Trikes Program on Tuesday and Thursday mornings at the Haines School gym. A dedicated museum volunteer, she also works providing personal care to REACH clients.
Museum Director Helen Alten
An objects conservator Helen Alten has degrees in materials science, chemistry and classical archaeology from the Institute of Archaeology (London, UK) and Bryn Mawr College. Mother of twins, she spent four years as a participant in the ground-breaking Early Child and Family Education program developed by the State of Minnesota. This introduced her to the Association for the Education of Young Children and their work developing high quality education for our youngest citizens. She has developed workshops for children and adults of all ages, but is proudest of her year teaching science to kindergarteners at Weberwood Elementary School in Charleston, WV. She was also a board member for Mountaineer Montessori School, and later incorporated Montessori concepts and techniques in working on cognitive improvements for stroke victims.