Chilkat Valley Historical Society
CVHS Mission
The Chilkat Valley Historical Society is committed to discover, collect, preserve and present historical information and materials pertaining to the Upper Lynn Canal, Alaska.  Through these activities, the Society stimulates historical interest and involvement of both residents and visitors.
Activities
The Historical Society is closely allied with the Sheldon Museum and, along with the Women's Club, was instrumental in the founding of the Museum in 1980. Recent Society activities include: underwriting historical radio spots every other week, sponsoring winter-time Friday noon "Brown Bag Lunch" historical talks and our current major project is the restoration and interpretation of Charles Anway's historic homestead--a farm at two mile Haines Highway.
Click here to learn more about Charlie Anway. 
---
Anway Homestead
"Anway's log house, which he built himself, is one of the most picturesque homes in Haines." - Seattle Post Intelligencer, September 3rd, 1946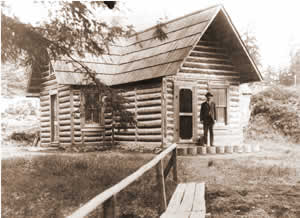 Charlie left Colorado in 1898 and headed for the Yukon in search of gold. Arriving in Alaska, Charlie abandoned his Klondike dream and came to Pyramid Harbor near Haines. Jack Dalton hired him to lead a pack train of horses to the Yukon along the Dalton Trail, which paralleled today's Haines Highway.
While on the Dalton Trail, Charlie was impressed by the surrounding landscape and later staked mining claims at Nugget Creek, a Tsirku River tributary, 30 miles from Haines. However, at heart Charlie was a farmer. Growing up in Colorado, his mother had taught him how to garden. It followed that during his search for a homestead while wintering in Haines, Charlie's top priorities were rich soil, sunlight and a water supply for crops.
Two miles west of town, Charlie found the perfect garden spot along the Chilkat River. By 1903 he surveyed his homestead (In 1911, it became the first patented in the Chilkat Valley), handcrafted a log home, planted a garden and began clearing land. Army Post, Fort William H. Seward, was under construction and provided a ready market, so Charlie decided to have a fruit farm.
As his farm overlooked the region's transportation corridor, the Chilkat River, Charlie watched passersby. Well liked by everyone, Charlie welcomed visitors as they walked the trail and sailed their canoes past his cabin to their mines, cabins and villages.  In 1906 a road was built from Haines to copper mines in nearby Canada. Soon merchants were hauling freight by wagon to Klukwan and to Porcupine Creek. During WWII the road was extended to meet the newly constructed Alaska Highway.
Charlie obtained starts from excellent strawberries growing in Jack Dalton's garden at Porcupine. These berries were his first crop. Applying his superb farming skills, Charlie grew the huge, award-winning berries that made him famous. His strawberries were so large, red, and sweet that they were celebrated with the town's annual Fourth of July Strawberry Festival, and Haines became known as the Strawberry Capital of Alaska.
Charlie cultivated the first commercial apple (1905) and sweet cherry (1930) orchards in Alaska and won awards for the first mature apples in the Territory. He also developed an early maturing, pink skinned potato called the Early Anway.
With help from Leon Ballard, the neighboring Vermiere girls and others, his farm prospered. Strawberries, apples, cherries, the Early Anway potato and vegetables were sold to Fort Seward. Strawberries were shipped to Skagway and Juneau via the Army boats and up to Bennett on the White Pass & Yukon Railroad. Charlie lived on his farm until his death in 1949.
Placed on the National Register of Historic Places in 2003 Charlie's cabin was later donated to the Chilkat Valley Historical Society. The Society has undertaken a multi-year project to restore and preserve the cabin, outbuildings and grounds.
When restored, the cabin will offer a rare insight into the ingenuity and achievements of Alaskan pioneers in an original structure. Visitors will be able to visit Charlie's simple, functional home and explore the surrounding area where he grew his crops.  Artifacts from Anway's homesteading life will be displayed in his home in a way that will engage people of all ages and backgrounds, and encourage active interest in the history of our community and state. Visitors will be able to view the simple, functional design of Anway's living space, the root cellar he dug into the bank at the back of his cabin with a door leading directly into his kitchen/bedroom, and the ladder rising to his loft.  His many self designed and handmade tools can be discovered in Charlie's old woodshed.
Saving this historic property will allow the Chilkat Valley Historical Society to document and share the achievements and creativity of one of our early settlers. The renovated Anway property will be available to educators to help them teach about the early history of Haines and of Alaska. It will be available for tours during the summer tourist season.
By telling the story of the early pioneer life in Haines, and of Charlie Anway in particular, this project plays a vital role in offering an experiential understanding of Alaska's History. Visitors to the site will learn about pioneer culture, values, and traditions, while acknowledging a great innovator of the past.
---
Restoration
Thanks to the generosity of George and Gladys Meacock, Bob Henderson and many other folks, the Chilkat Valley Historical Society fully owns Charles Anway's cabin outbuildings and over an acre of Anway's original homestead.
A National Historic Trust Preservation Hart Family Grant, a Federal Highway Administration National Scenic Byways Program Grant, and a State of Alaska appropriation through the efforts of Representative William "Bill" Thomas, have pushed this project forward in many directions. 
The interior of the cabin still needs restoration to Charlie Anway's era; work is still needed on the property; an interpretive plan developed by Alaska State Parks, needs implementation; and, the project needs more funding, but we are optimistic all will be completed in the next few years.