Collections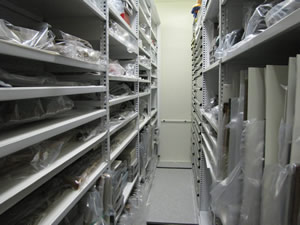 Did you know that most museums only have 20% of their collection on display? That leaves 80% in storage! 
The Sheldon Museum is an environmentally controlled building with special on-site compacting storage that prevents dust from building up on our carefully packaged and stored objects.  We also have archives where we keep documentation, papers, pamphlets, maps, photographs, glass plates, slides and a non-lending library of all things Haines related.   
Every item is documented and entered into a collections program called PastPerfect so they can be searched from an on-site computer.  Of course, this is a long, laborious process that never ends, but we have masses of information available for researchers and our staff is always willing to help.  Please click on the links below for additional information.