Exhibits
For a small town of only 2,600 people, we think big. Perhaps its because we are sorrounded by so many soaring mountains!
The Sheldon Museum features two galleries full of exhibits on native and non-native settlement of Haines and the Chilkat Valley area. We also have a rotating display of local artwork. Our permanent Exhibits cover all aspects of Tlingit Native Culture including their highly prized Chilkat Blankets, spruce root basketry, and beadwork. Early European settlement includes the Presbyterian mission which birthed the beginings of Haines, through the building of Fort William H. Seward, Eldred Rock Lighthouse, the Dalton Trail, the Porcupine Gold Rush and more.
Beginning in 2010, the Museum underwent a major overhaul of all our permanent exhibits, updating them and incorporating topics that had been overlooked. We are still in the process of fleshing out some of the exhibits and gathering stories. If you have a local tale, we'd love to hear it. History is not static; it is always being produced so our job never ends. Come visit the museum and discover why we came, why we stayed, and why we love our little town.
Click on the slide show for few images of our permanent exhibits and the links at left for more information. We also have many temporary exhibits that pass through including our Six Week Spotlight Series that features local artists. Don't miss out.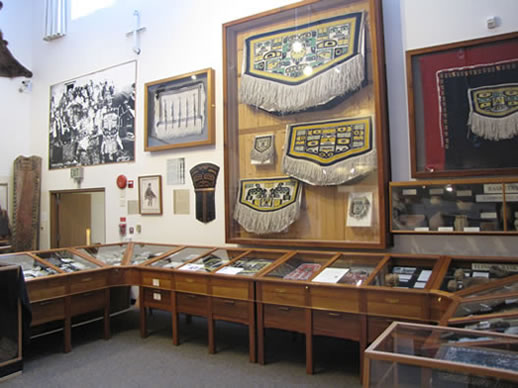 Chilkat Blankets

Mining & Fishing

Tlingit Culture

Dalton Trail