About Us

Haines Sheldon Museum
is located centrally downtown on the original Haines Mission grounds in a picture-perfect setting overlooking Lynn Canal, a magnificent fjord. Our staff and volunteers warmly greet all visitors and happily share stories about life in the Chilkat Valley. Guided tours are available upon request.
Click on the map below for a larger view or CLICK HERE for the Google map.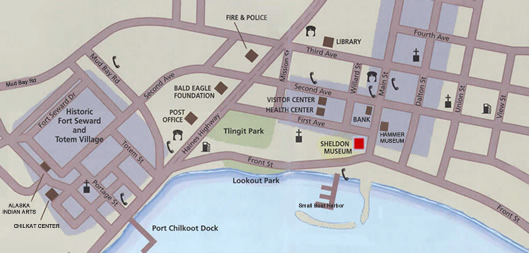 ---
Our Mission
The Haines Sheldon Museum, an educational institution of the Haines Borough, is committed to collecting, preserving and interpreting the history, art and unique blending of diverse cultures within the Chilkat Valley region.  
The Haines Sheldon Museum's presentation of artifacts, clan trust property, and memorabilia enhances quality of life for area residents and visitors; informs researchers and historians; inspires artists and creative writers; and encourages community pride through permanent, temporary, and traveling exhibits, and through a variety of outreach programs for schools and the public.
---
A Brief History of the Haines Sheldon Museum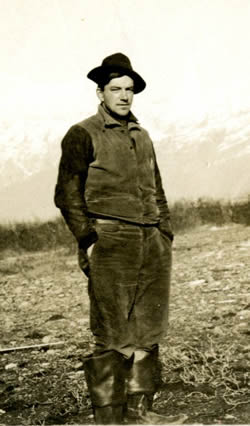 Steve Sheldon, at the age of 8 (in 1893) purchased a piece of the original transatlantic cable for "the museum I'll have some day."  When he came to Haines, Alaska from Ohio in 1911, he met and married Elisabeth Birkinbine, a girl from Pennsylvania, who was also interested in collecting.  While Steve gathered all sorts of interesting things, Mrs. Sheldon concentrated on Tlingit baskets, beadwork and blankets.
A family hobby for 50 years, the collection was donated to the community by the Sheldon daughters, Lib and Harriet, under the care of the Chilkat Valley Historical Society. The 'Sheldon Collection' forms the nucleus of the now much larger collection at the Sheldon Museum.  This public facility, owned by the Haines Borough, is a monument to community effort.  The Presbyterian Church donated the land to the Haines Women's Club, the driving force behind the construction of the Museum.  Bazaars, pie and bake sales, hike-a-thons and other assorted fund-raisers, grants, support from the Haines Borough and City of Haines, and an untold amount of volunteer labor, have made possible the accredited facility you see today.  The museum was dedicated in 1980, accredited by the American Association of Museums in 1991 and now operates with a modest, professional staff and many faithful volunteers.
---
Is the Sheldon Museum in Haines, Alaska affliated with the Sheldon Jackson Museum in Sitka?
This is a common confusion and a common question. There is no relationship between these two establishments.
The Sheldon Museum in Haines is named for the Sheldon Family who began the museum's collection.
The Sheldon Jackson Museum in Sitka takes its name from Rev. Sheldon Jackson, a Presbyterian missionary who, in 1885, was appointed General Agent of Education for the newly acquired Territory of Alaska. He established many missions and schools all over Alaska.