Solomon Ripinsky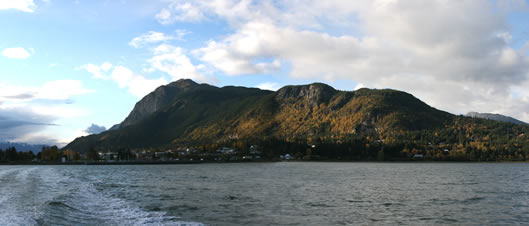 A view of Mount Ripinsky and Haines in fall of 2011. The mountain was named in honor of Solomon Ripinsky.
In 1890, what the Tlingits in the area called Gei'Sun Hill was renamed Mount Ripinsky in honor of Solomon Ripinsky, a local school teacher. He later owned and operated several businesses, served as a postmaster of the Chilkat Village (a small cannery village that no longer exists), was appointed as the School Director of Haines, was elected Mayor of Haines, and also served as a U.S. Commissioner on several occasions.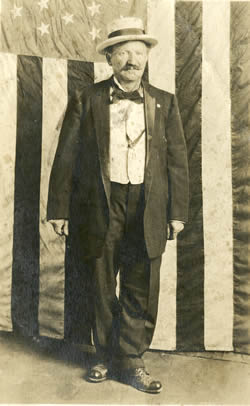 Solomon Ripinsky receiving U.S. citizenship, 1910.
Sol was born on April 15, 1859 in one of 13 towns located in the county of Rypin, Poland. The surname "Ripinsky" was chosen or assigned to the family in the early 1800s as most European Jews did not have family names. To avoid military conscription Ripinsky emigrated at the age of 11 (as did several of his brothers). He settled in Shreveport, Louisiana in 1870 and worked in a brother's clothing store until 1873 when a yellow fever epidemic hit the city resulting in the deaths of a niece and nephew.
By 1876 he'd moved on to Sacramento, California, where a city directory lists him as a Civil Engineer, though it is likely that he also owned an art gallery which featured his own paintings. An 1879 Tax Roll shows him to have relocated to Salem, Oregon where he owned a grocery store named Webfoot. Newspaper ads featured Russian caviar and sardines as well as cigars. Governor W.W. Thayer appointed him an aide-de-camp (probably on August 21, 1881) which carried the rank of colonel in the State Militia. Though the position was largely ceremonial he continued to use the title for the rest of his life.
In July of 1884 he moved to Sitka, Alaska and worked for U.S. Attorney Edward W. Haskett for a year. This probably led to his becoming a notary and gave him some legal background. In August 1885 he was hired by the Commissioner of Education, Sheldon Jackson, and taught 45 native students of Unalaska, both in English and Russian, from October 1885 to June 1886.
Sometime in the later part of 1886 he found his way to Haines and ran the school from January 1887 until June 1887. It was reported that his former students were easily recognizable because they spoke English with a Polish accent! As a final note to his career in education he was elected School Director of Haines in 1908.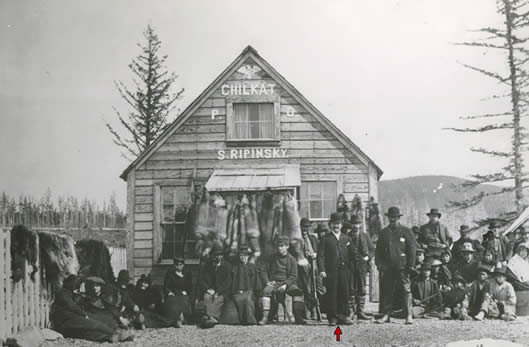 The Chilkat Village Post Office and General Store operated by Solomon Ripinsky, between 1894-1900. Solomon is pointed out here with a red arrow. Chilkat Village was a small settlement that grew up around a cannery at about 1.5 mile Mud Bay Road. Nothing but a few piling remain today.
After the school year finished, Sol took the job as storekeeper for the Alaska Packers Association cannery in Pyramid Harbor. He moved to Chilkat Village (located at the cannery) and in 1890 worked for the Chilkat Canning Company. Sol served as the Chilkat Village's postmaster from March 6, 1894 until Oct. 23, 1899. The post office was located in his general store and he earned close to $100 yearly from this endeavor. After the site was closed he stayed on as a caretaker.
In December of 1897 Sol bought a small plot of land (about an acre) from Sarah Dickinson, a former school teacher and wife of a local trader. He also claimed to have homesteaded a large tract of land which comprised much of present day Haines. There ensued a number of lawsuits which began in 1898 and ended in 1914 with an appeal to the U.S. Supreme Court. In the end he could only prove homestead rights for the land which he had purchased from Sarah and maintained fences around, just a fraction of what he sought. Transcripts of most of the trials are available at the Washington D.C. National Archives.
U.S. Commissioners were minor judges and in Alaska it was a highly sought position with former governors from throughout the U.S. applying for any openings. Sol was appointed in July 1899; the length of the term is not known. He re-applied for a second term in 1905 but wasn't chosen, though on November 21, 1921 he was again appointed to the post.
In addition, he served as a delegate to the 1899 convention which petitioned the U.S. Government for territorial status and on April 9, 1916 he was elected mayor of Haines. He also owned a general store in Haines from around 1897 until his death on March 21, 1927.
The Sheldon Museum has a collection of Sol's memorabilia including his desk, artwork, letters and journals, as well as newspaper articles which detail his life.
You may have read material about Solomon Ripinsky that contradicts the information here. It has been noted that Sol had the "gift of gab" and rarely corrected any statement about himself if it made a good story. This has made ferreting out the real facts very difficult. However, the information in the above article has been painstakingly researched and corroborated with actual records, rather than articles taken from interviews or other possibly embellished sources.
Eric Juda, 2008
edited and revised by Blythe Carter 2008