Welcome to the Haines Sheldon Museum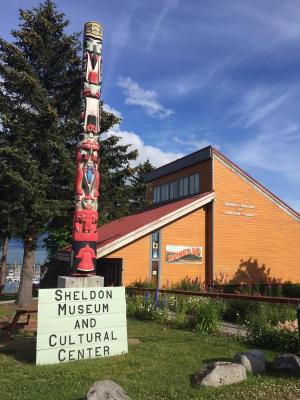 The Haines Sheldon Museum, showcasing the art and culture of Haines, houses over 4,000 artifacts from Chilkat Blankets to the Eldred Rock lighthouse lens; 12,000 cataloged photographs and slides of images from the 19th century until today; over 2,000 books about our area; and countless documents including mining company ledgers, journals, pamphlets, letters, ship's logs, maps and research papers.
The Haines Sheldon Museum enriches our community and helps us explore the world and culture of our past and present. This includes in-depth looks at our town's puppet makers, laughing over our mountains made into ice cream sundaes, touring the Totem Poles that are an intrinsic part of our town, and celebrating our Native, agricultural, mining, fishing and logging roots and current industries.
Centrally located on the bluff overlooking the Small Boat Harbor, the Haines Sheldon Museum is on the original Haines Mission grounds in a picture perfect setting. Museum grounds include an Eagle tree, sculptures, a picnic table and benches for visitors to enjoy the water front view. The Museum entrance faces Main Street and parking is on First Street.
Our staff and volunteers happily share stories about life in the Chilkat Valley. Guided tours are available by appointment.
The Haines Sheldon Museum depends on many sources to support our mission to preserve and promote the history, art and unique blending of diverse cultures within the Chilkat Valley region.  It is thanks to the sustaining support of our community that we can offer free educational programs and exhibitions, while continuing to grow and properly preserve the permanent collection.